With
Mostly Books
moving ever closer to their 1 July launch, I have been thinking about my own book-buying habits. I live in a town that is blessed with branches of two of the big bookshop chains,
Ottakar's
and Waterstones (one will no doubt disappear once the Wottakars merger goes through). We also have a large W H Smiths, and several smaller independents. So why do I actually buy most of my books from a certain
online behemoth
?
I lived in the US for several years a few years ago. We lived then within a short distance of both a huge Borders and a huge Barnes & Noble (there were no indepents particularly close to us). I found myself buying most of my books from those two, rather than from the
American online behemoth
. Why the difference?
It's not a matter of price. I am fortunate to have a well-paying job, and I can afford to pay full price for books if there are good reasons for doing so. I see 2-for-3 offers as an excuse to pick up a book I might not otherwise read, if there are two that I actually want. Buying online in the US would have been a cheaper, but I didn't do it.
I think that it is in part to do with where and when I learn about books that I might want to read. My main sources, apart from personal recommendations, are the Review section of the
guardian
on Saturdays, the Arts and Books section of the
Independent
on Fridays, the
London Review of Books
(alternate Fridays), and
Open Book
on Sundays on Radio 4 (when it's not being to up itself about popular fiction). What these have in common is that they appear at the weekend. What with all the other things that have to be fitted in to the weekend, I find myself deciding what books I would really like to get hold of on Sunday afternoons.
Now I tend to be a bit of an impulsive shopper. If I decide that I want something, then I want it now, or as close as possible to now. If I put an order in to Amazon on Sunday evening I will usually get a package through the door just before I go to work on Tuesday, and can look forward to reading the contents that evening.
If I decide to go the bricks and mortar route it takes much longer. Because I work normal office hours, and I am a little too far from the middle of town than makes a lunchtime trip convenient (I cycle to work, so would have to cycle into town and back), I can only get to the local Ottakars in the evenings or at the weekends. Except that they close at 6:00pm, and I can't always get there by then, and even if I can, having entered the shop I don't want to be rushed. Which means that I can only get in there at the weekends.
Back in the US the bookstores stayed open until 10:00 or 11:00pm, so I could go almost whenever the urge took me. Add to that the coffee and buns, and I could go, buy, and read a few chapters in quiet comfort.
So,
Nicki and Mark
, if I lived in Abingdon, the best way to get me to buy all my books from you would be to open in the evenings. Given all the demands on you as you start up, I rather suspect that you didn't want to hear that...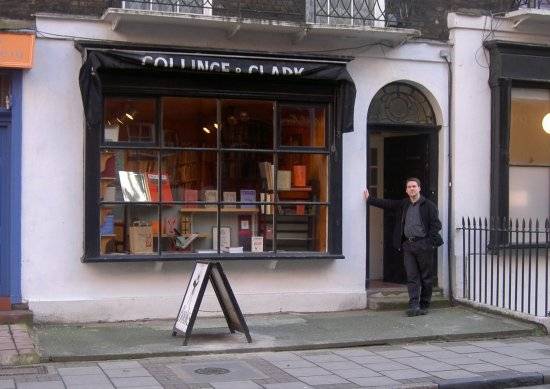 I must just add that my first thought on seeing the photograph of the future Mostly Books (at the top of this post), my first thought was that it looked just like a bookshop. A particular bookshop in fact.
Black Books
. I look forward to seeing how far the resemblance extends on the inside.